LED neon lights are an alternative to traditional glass neon lights. Their difference is mainly reflected in the fact that LED neon lights are soft and not brittle. It uses high-quality food-grade silicone material, which can be bent and designed into other shapes.
And LED neon sign lights use safe low-voltage electricity, energy-saving, and you don't have to worry about paying high electricity bills when lighting the LED neon sign for a long time. These features give users enough possibilities and feasibilities to DIY LED neon lights signs and neon lighting.
The use of LED neon lights: word font pattern lyrics outline, and decorative lighting (building outline, background wall design, backlight lighting, etc.).
How To Make Personalised Neon Signs?
Determine the letters, patterns, or lyrics you want to create.

LED neon lights signs require electrical connections from block to block, so you can choose fonts or patterns that are easy to connect at first. Having ideas on how to hook up LED neon sign lights can make your DIY process less confusing.
Run a line along the pattern or text to estimate how long you need for the neon led lights strip. LED neon strip lights usually come in a roll of 5m, but some neon light strips are also sold from one meter.
Choose a suitable back sheet for your neon light sign, clear acrylic sheet, wooden board, or others.
Paste the LED neon light strip to your text pattern.

Cut the LED neon strip to the right length according to your text pattern, and make sure each segment of the neon lights signs can be lit. The black markings on the side of the neon led strip means this place can be cut.
Neon strip lights can be bent but not pulled arbitrarily.
Neon strip lights cannot be stretched.
Neon strip lights cannot be rotated and twisted.
Neon strip lights cannot be bent at a full 90-degree angle.
Drill holes in the neon strip wires to hide behind the neon led signs.

Hidden wires can be pasted along the direction of the font to make your customized neon sign light look less cluttered.
Apply power to the neon sign.

Decide how much operating power you need based on the length of your neon strip used.
For example, I am using a 12V LED neon lights strip, which consumes 8 watts per meter, and I outline 2 meters, so my neon lights sign consumes 8W/mX2m=16 watts in total, then I need a 16 watts X1.2=19.2 watts 12V power adapter to light up it.
Install the LED neon sign.

Bedrooms and living rooms are the best places to install motivating LED neon signs. If you're a retail store owner, hang unique neon signs on your store walls or windows to attract customers.
There are many locations to install neon LED light signs. LED neon lights have an IP67 waterproof rating and can be used indoors and outdoors.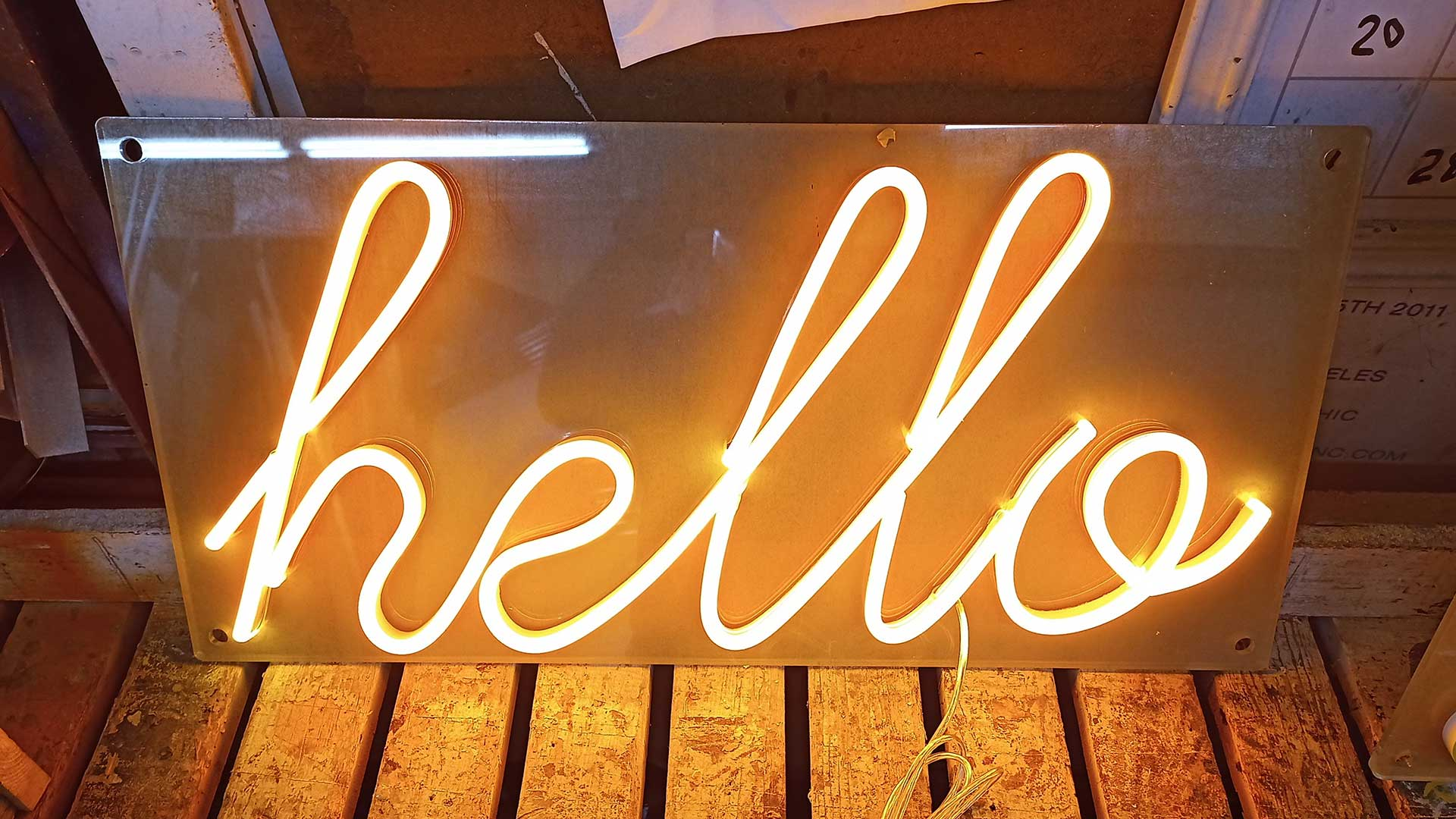 Choosing the Right LED Neon Light Strip
When DIYing LED neon signs, which neon lights are available?
Neon signs in static colors (pink neon sign, red neon sign, blue neon sign, purple neon sign, yellow neon sign, green neon sign) and neon signs in dynamic colors (color changing RGB, RGBW, RGBCCT, addressable dream color) bring people different feelings. LED neon lights with a rich color selection can be used to create a variety of neon signs.
The combination of a silicone diffuser and an LED light strip can also make up LED neon lights. For users who have unused light strips at home, just buy a silicone diffuser and thread the light strip into the silicone tube to get the neon light. For more information please click here.
LED Neon Lights Used As Linear Decorative Lighting
Soft linear neon lights are also often used to outline architectural lighting, further complementing the overall structure of the building and adding luster to the urban night scene. The interior of the shopping mall uses LED neon sign lights as decoration, and can also play the function of auxiliary lighting and directing the line of sight.
Adding LED neon lights to the door frame of the store is easier to attract customers' eyes. It can also be flexibly installed in curved space sections.
LED neon lights are mounted with clips for a simple installation method, and they can also be for linear or curved lighting by using aluminum channels or flexible profiles.