How to choose WS2812 series (WS2812/WS2812B/WS2812C) addressable led strip lights? First of all, we have to know the difference between them and their characteristics.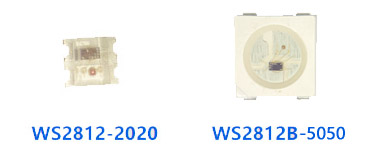 WS2812 VS WS2812B: WS2812B is an upgraded version of WS2812, which is better than WS2812 in all aspects, with higher brightness and color uniformity, and has a faster and more stable signal transmission speed.
The WS2812B LED has only 4 pins, reducing the chance of accidental short circuits, and making it more flexible to use than the WS2812.
WS2812B has a reverse polarity protection circuit design. Reversing the polarity can sometimes damage the WS2812 LED lights, but not the WS2812B module.
WS2812C VS WS2812B: WS2812C is fully compatible with WS2812B. You can use them together.
▶The same points of WS2812/WS2812B/WS2812C addressable LED strip lights are:
1. IC built-in: Integrating the IC into the LED makes the circuit simpler and the installation easier.

2. Individually addressable LED lights: An LED is a controllable point, you can control the color and brightness of each LED at will.

3. The LEDs are all RGB colors: Each LED has three color channels (R, G, B), by mixing the colors of these three channels to display various light colors.

4. Works only at DC5V: Use a 5V controller and a 5V power supply to run the WS2812 LED strip, WS2812B LED strip, and WS2812C LED strip.

5. Can use a control board (Arduino UNO/Raspberry Pi) to DIY control the WS2812/WS2812B/WS2812C LED lights or use a compatible SPI controller to control the color and brightness change.
WS2812B LED Strip Parameters:
| | | | | | | | |
| --- | --- | --- | --- | --- | --- | --- | --- |
| Voltage | LED Type | LED Color | LED Strip Width | LED Density | Strip Length | PCB Color | Waterproof Rating |
| 5V | 5050 | RGB | 4/5 mm | 60 LEDs/m | 1m, 2m | White / Black | IP20 / IP67 |
| 5V | 5050 | RGB | 10 mm | 30 LEDs/m | 0.5m, 1m, 2m, 5m | White / Black | IP20 / IP65 / IP67 / IP68 |
| 5V | 5050 | RGB | 10 mm | 60 LEDs/m | 0.5m, 1m, 2m, 3m, 4m, 5m | White / Black | IP20 / IP65 / IP67 / IP68 |
| 5V | 5050 | RGB | 12 mm | 72 LEDs/m | 5m | White / Black | IP20 |
| 5V | 5050 | RGB | 12 mm | 96 LEDs/m | 0.5m, 1m, 2m, 5m | White / Black | IP20 / IP65 / IP67 / IP68 |
| 5V | 5050 | RGB | 12 mm | 144 LEDs/m | 0.5m, 1m, 2m | White / Black | IP20 / IP65 / IP67 / IP68 |
| 5V | 5050 | RGB | 10 mm (COB) | 160 LEDs/m | 1m, 5m | White | IP20 / IP67 |
| 5V | 5050 | RGB | 10 mm (COB) | 320 LEDs/m | 1m | White | IP20 / IP67 |
WS2812C LED Strip Parameters:
| | | | | | | | |
| --- | --- | --- | --- | --- | --- | --- | --- |
| Voltage | LED Type | LED Color | LED Strip Width | LED Density | Strip Length | PCB Color | Waterproof Rating |
| 5V (for car) | 2020 | RGB | 2.6mm | 92LEDs | 750mm | White | IP20 / IP67 |
| 5V (for car) | 2020 | RGB | 2.6mm | 135LEDs | 1100mm | White | IP20 / IP67 |
| 5V | 2020 | RGB | 4mm | 60LEDs/m | 1m | White | IP20 / IP67 |
| 5V | 2020 | RGB | 4mm | 90LEDs/m | 1m, 2m | White | IP20 / IP67 |
| 5V | 2020 | RGB | 4mm | 120LEDs/m | 1m, 2m | White | IP20 / IP67 |
| 5V | 2020 | RGB | 8mm | 198LEDs/m | 1m, 2m | White | IP20 / IP67 |
WS2812 LED Strip Parameters:
| | | | | | | | |
| --- | --- | --- | --- | --- | --- | --- | --- |
| Voltage | LED Type | LED Color | LED Strip Width | LED Density | Strip Length | PCB Color | Waterproof Rating |
| 5V | 2020 | RGB | 3.5mm | 20LEDs | 100mm | Black | IP67 |
| 5V (rigid light bar) | 5050 | RGB | 5mm | 60LEDs | 0.5m | Black | IP20 |