Black led profiles, with black anodized aluminum surface treatment, are a special product designed for LED light strips. The overall appearance is black, simple, and stylish. It is composed of a black aluminum channel, a black led light strip diffuser, two black end caps, and two mounting clips. The black LED profile can echo your fashion style, hide the aluminum channels, minimize the presence of LED light fixtures, and add a sense of design to your home.
Different LED Strip Diffusers For Black LED Channels
You can choose from four different led strip covers for your black aluminum profile, PC clear diffuser, PC translucent diffuser, PC opal matte diffuser, and PC black frosted diffuser. Here we focus on the influence of the black diffuser on LED strip lighting and the luminous effect of the black covers for different LED colors.
The black diffuser cover, made of PC matte material, with 60% light transmittance, softens the LED strip light and makes it less dazzling.
Light up the LED strip lights under normal conditions (without a diffuser cover), it emits dot lights, you can clearly see the irradiation range of each LED. And looking directly at the LED light for too long will make your eyes uncomfortable.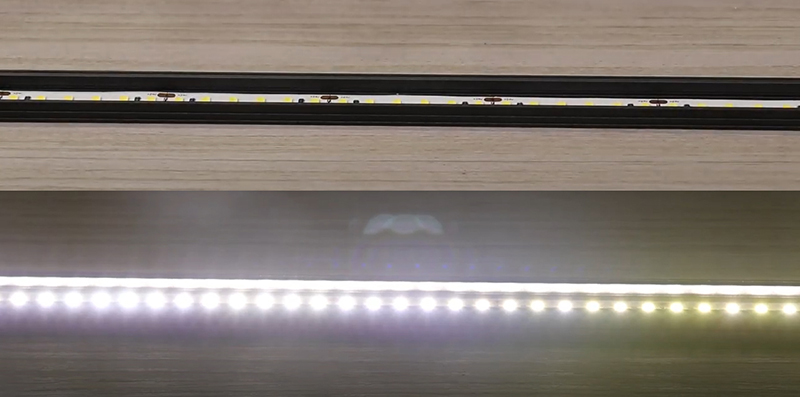 Add a black led light diffuser to the LED strip, the LED light is evenly distributed through the diffuser, producing a soft and non-glaring linear light.

Different Color Light Effects For LED Black Cover
Whether it is a white LED light strip or a multi-color LED light strip, the black LED diffuser can reduce the LED glare very well and provide enough light illumination for your room.
Black led diffuser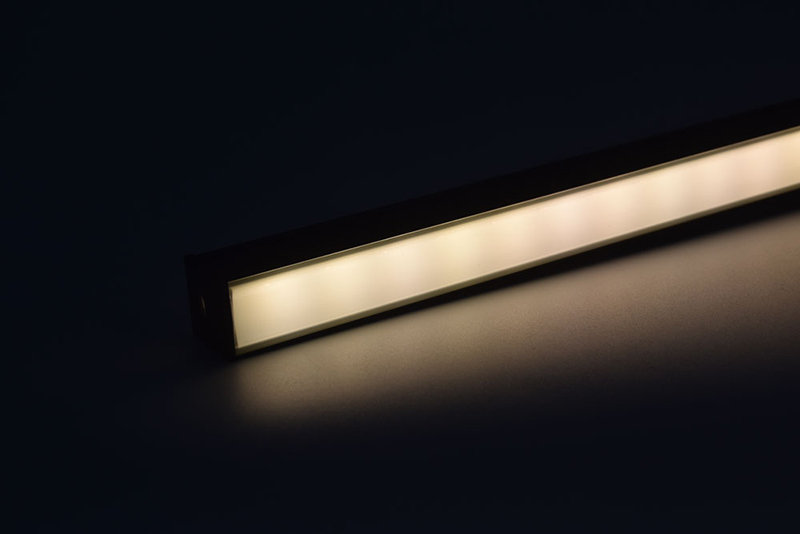 White light effect for black led channel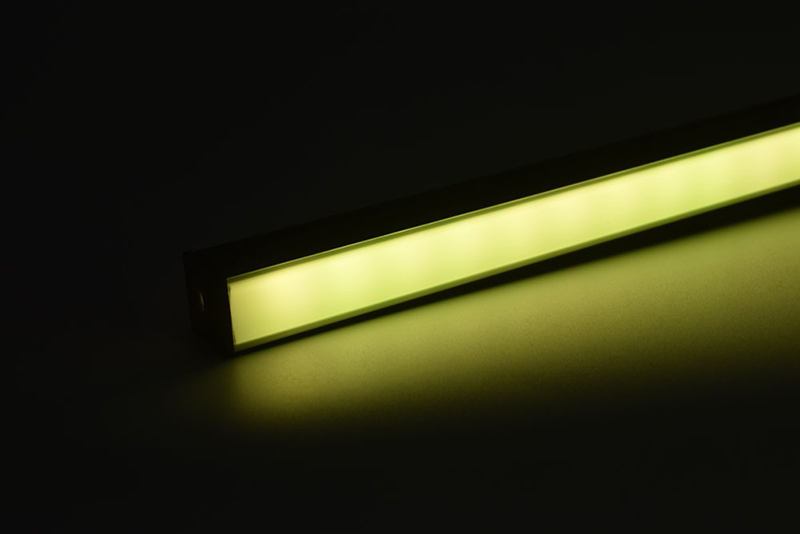 Yellow light effect for black led profile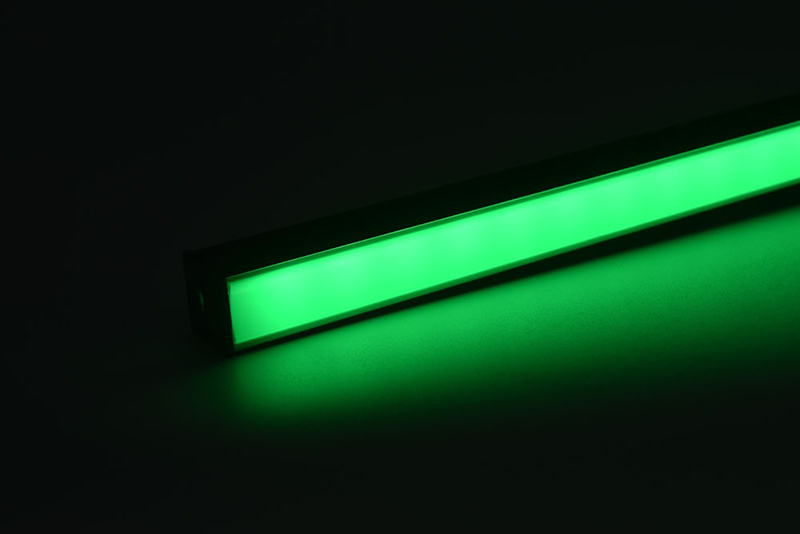 Green light effect for black aluminum channel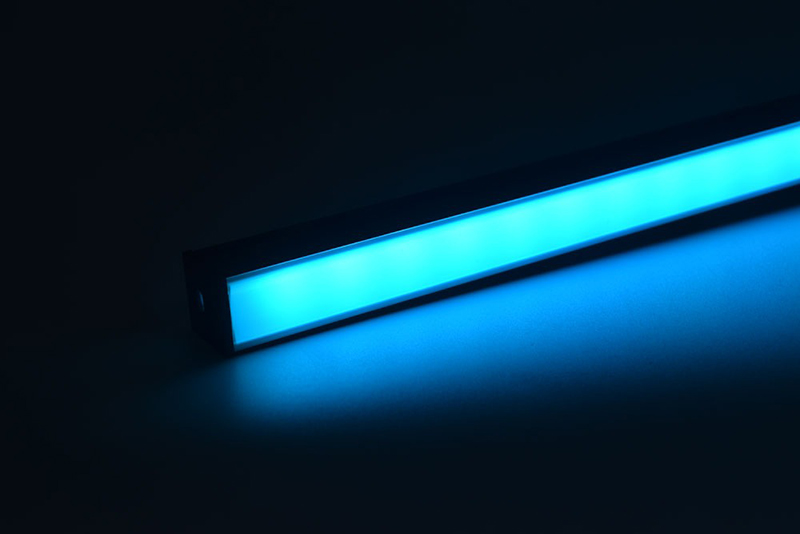 Ice blue light effect for black led light diffuser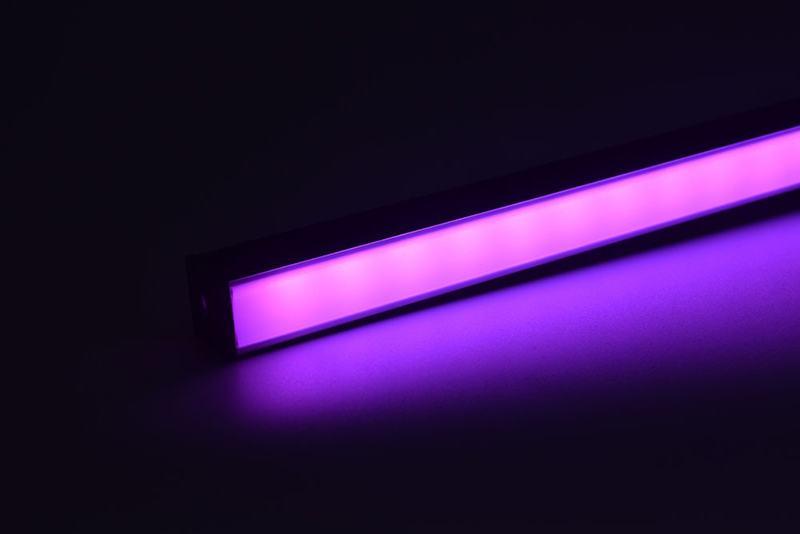 Pink light effect for black led strip channel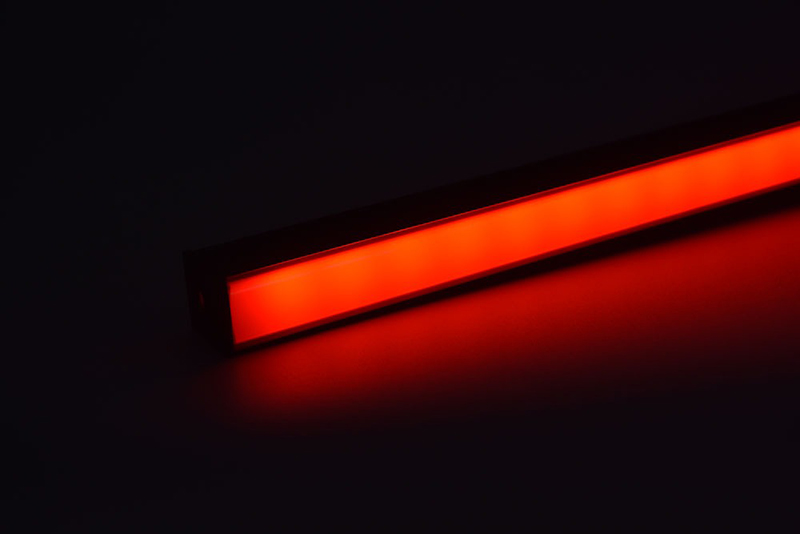 Red light effect for black led strip profile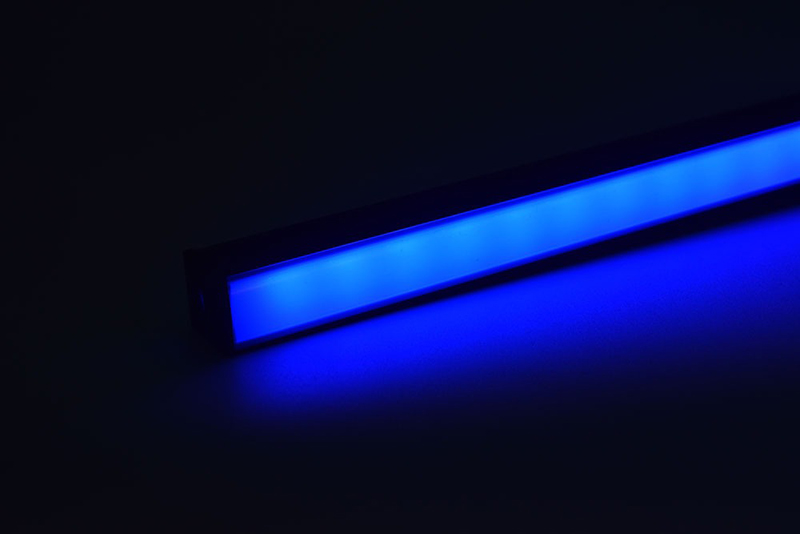 Blue light effect for black aluminum profile
Black LED Strip Light Diffuser Interior Lighting Ideas
LED Light often affects an individual's mood and health unwittingly. Lighting is required in all rooms, LED lights provide a sense of security and help to create a comfortable and warm atmosphere.
3.1 Under cabinet lighting
Installing black LED aluminum profiles under the kitchen cabinet can meet the clear vision requirements of kitchen activities. Not only can it add mood, but it can also make the kitchen more practical and aesthetic.
Before the home design, you can choose the recessed black led lights diffuser, it needs to be embedded in the cabinet to get a smooth surface.
The black led diffuser channel is a light and small linear light fixture, and the height will not be too prominent, so it is also suitable to be fixed on the surface of the cabinet with mounting clips. This installation method is very simple.
There is also a black led channel diffuser for under cabinet lighting installation – corner led channels, the led channel V shape fits perfectly into cabinets and kitchen walls.
3.2 Shelf/Display lighting
We often put important items on display shelves. Add LED lighting to the display shelf to highlight the items placed and at the same time increase the warm atmosphere.
3.3 Wall lighting
The black aluminum channel is embedded in the wall, and the black led diffuser plays the role of line decoration.
3.4 Ceiling lighting
Black aluminum led profiles can be used as chandeliers to decorate the ceiling for accent lighting.
2.5 Art Deco Lighting
The black led aluminum track is matched with black home decoration, form a good color match, even when the LED light is off, it has an artistic sense.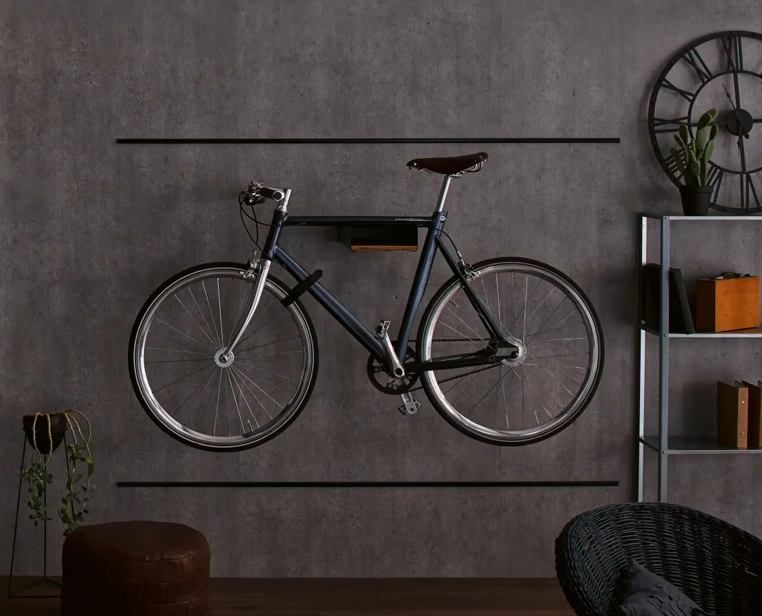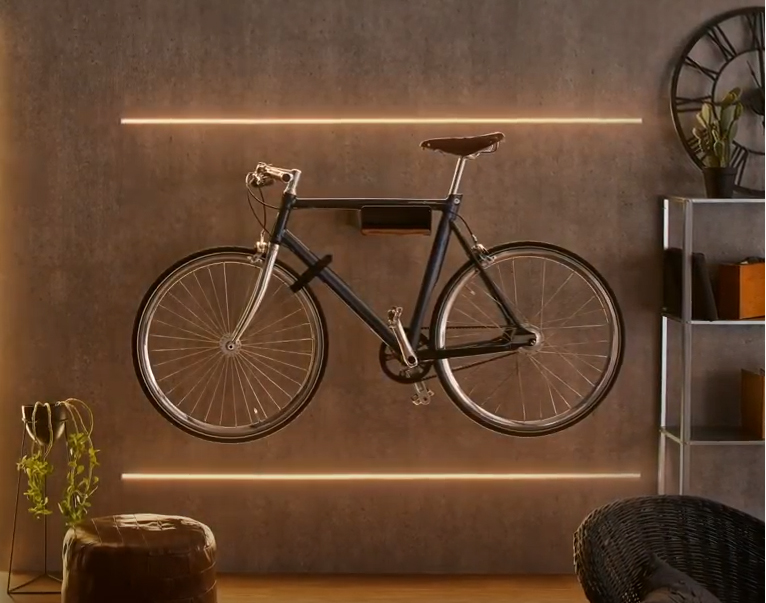 Related led channel knowkedge:
How To Find The Right Aluminum Channel For Your LED Strip Light?