Decorating the floors of your house is one of the keys to creating an ideal home. We often choose different floor trim for different rooms to match the function of each space. We may also use two or more flooring trim in the same room. This can lead to the question: how do you achieve a smooth transition between trim floor of different materials and avoid awkward stiffness?
Traditional vinyl or metal floor transition strips do play a role in this regard, but they usually only serve a single transition function. We would like to present you with a novel idea for your floor cover – combining floor transition strips with LED lighting.
These innovative LED floor transition strips are made of sturdy aluminum, which not only withstands stepping, but also provides soft and even LED lighting. Whether your home decor is modern, traditional, or otherwise, this innovative floor trim idea will help you create a comfortable home environment.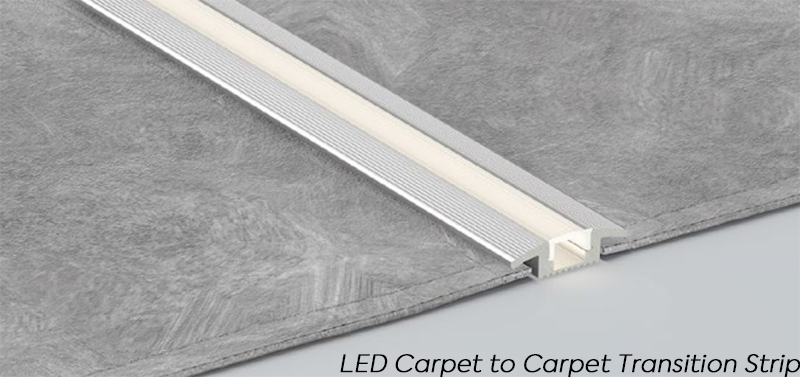 Most Frequently Used Flooring Trims
The most common materials used to decorate a room's floor include wood flooring, tile flooring, and carpeting.
Wooden flooring is a classic flooring decorating material that brings a natural warmth to your home space. It is more common in traditional home buildings.
Tile flooring is the choice for modern homes, offering excellent wear resistance and easy cleaning. It excels in wet and high-traffic areas such as bathrooms, living rooms, and hallways.
Carpet flooring is something that people looking for comfort and a moody atmosphere in their homes will love. Carpeting a room provides a soft tread and excellent soundproofing for bedrooms, home theaters, and offices.
There are situations where we use different flooring materials to help delineate different functional areas within a room or to create visual focal points and decorative effects. However, to successfully use multiple flooring trim materials in the same space, floor transition strips become critical.
What are Floor Transition Strips?
Floor transition strips are typically used to connect two different types, heights, or materials of flooring. The end result is a smooth transition and provides a decorative finish.
In many homes, wood-floored hallways or walkways connect to the soft carpet in the bedroom. In this case, a proper floor transition is needed to smoothly connect the wood flooring to the carpet. Doing so ensures an overall neat appearance while preventing people from tripping or damaging the edges of the flooring.
In an open house design, the living room and kitchen are not clearly separated from each other but form one continuous space. Typically, wood floors are used in the living room area while tile floors are used in the kitchen area. To clarify the nature of these two spaces, floor transition strip is also used to separate them.
Floor transition strips do not only refer to the smooth transitions between carpet, tile, wood paneling, and concrete. At the edges where the carpet meets the room walls, transition strips protect the carpet edges from everyday wear and tear.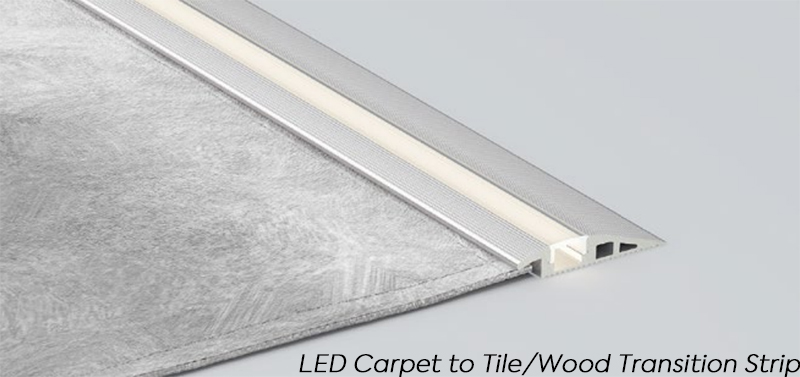 Types of Floor Transition Strips
The material and height differences between different floor trim types lead to the necessity of creating a smooth overall effect. Here are some common situations where floor transition strips are used.
Carpet to tile transition strip: eliminate the unevenness between carpet and tile floors.
Carpet to wood transition strip: create a neat transition in the doorway between bedroom and hallway floors.
Carpet to carpet transition strip: balance different colors or styles of carpet floors.
Tile to wood transition strip: smoothly connect the tile in the doorway to the wooden flooring in the living room in a house entry.
Tile to tile transition strip: differentiate between wall tiles and floor tiles.
Carpet to concrete transition strip: carpet stairs to basement concrete floor.
Tile to concrete transition strip: balcony and interior.
Transition strips help to maintain a consistent and clean look in interior spaces. They create visual separation between different floor trims, giving each area its own unique character while still maintaining coordination.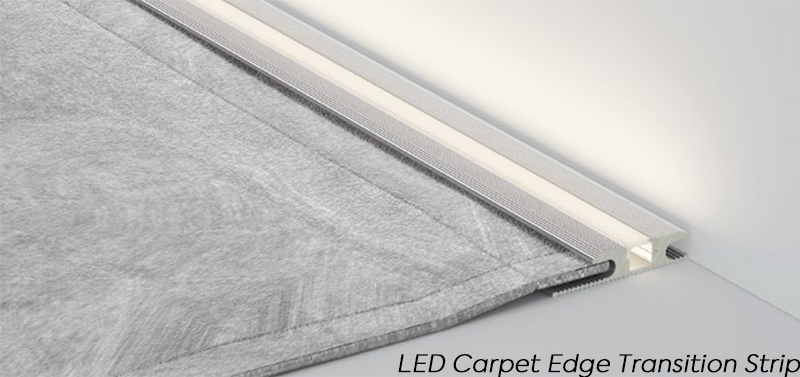 Experience LED Floor Transition Strips
LED floor transition strips have built-in LED lighting strips that provide soft illumination in floor transition areas. These floor transition strips are not only functional, but can also add a unique visual appeal to your interior.
Whether you are moving from carpet to carpet, carpet to wood flooring, carpet to tile, or dealing with carpet edges, LED floor transition strips are effective in providing an even transition.
When choosing a floor transition solution, consider selecting our LED floor transition strips. Make your floor transitions part of your interior decor and add a unique charm to your home or commercial space.