RF RGB Control System

Skydance wireless RGB series includes 3/4/5 channels controller, remote control, panel controllers&remote and dimmable LED driver. Through product different collocation to achieve light on/off control, brightness adjustment, static color, dynamic effect,group partition, scene, timing, sensor and other intelligent control functions.
1. The RGB (3 channel) controller can be matched with all remote controls (including hand-held remote, panel remote, desktop remoteof dimming, CCT, RGB, RGBW and RGB+CCT).
2. Adopt 2.4G wireless technology, the remote control distance is 30 meters, the controller has the cascade function, through the signal forwarding between the controllers can reach hundreds of meters of control distance.
3. The 4/5 channel controller can be used as a RGB controller when connect with RGB light and matching the RGB remote control.
4. One controller can be matched with up to 10 remote controls. A controller can match in the same remote control of different zones, to achieve flexible grouping function.
5. A remote control can control single or multiple zones, each zone can be matched with an infinite number of controllers.
6. All controllers on the same zone are automatically synchronized.
7. The RGB series includes constant voltage controller, constant current controller, RGB remote control, RGB panel, constant voltage dimmable LED driver, WiFi-RF converter and 3 channel power repeater, etc.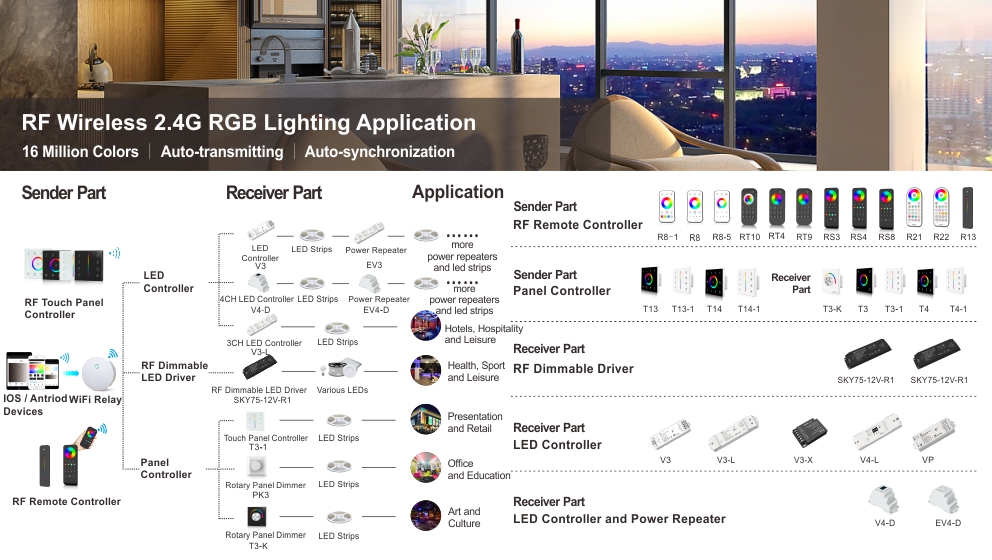 Shop RF RGB Control System Type