How to Install LED Strip Lights?
If you want to decorate your rooms or make them look different, LED light strips are a good choice. Led strip lights can be used in a wide range of places, indoor and outdoor. And it has various advantages, energy-saving, environmentally friendly, safe and easy to operate.
Today we will take you to understand the led light strip installation. Hope this article can help you.
Installing led strip lights successfully is a fulfilling thing. It doesn't matter if you are a novice. If you need led light strip accessories, click here.
• LED lights with indoor applications: ceilings, corridors, kitchens, bedrooms, cabinets, bathrooms, stairs, etc.
•
Outdoor applications of led light strips: gardens, parks, building outlines, advertising signs, outdoor steps, roads, swimming pools, etc.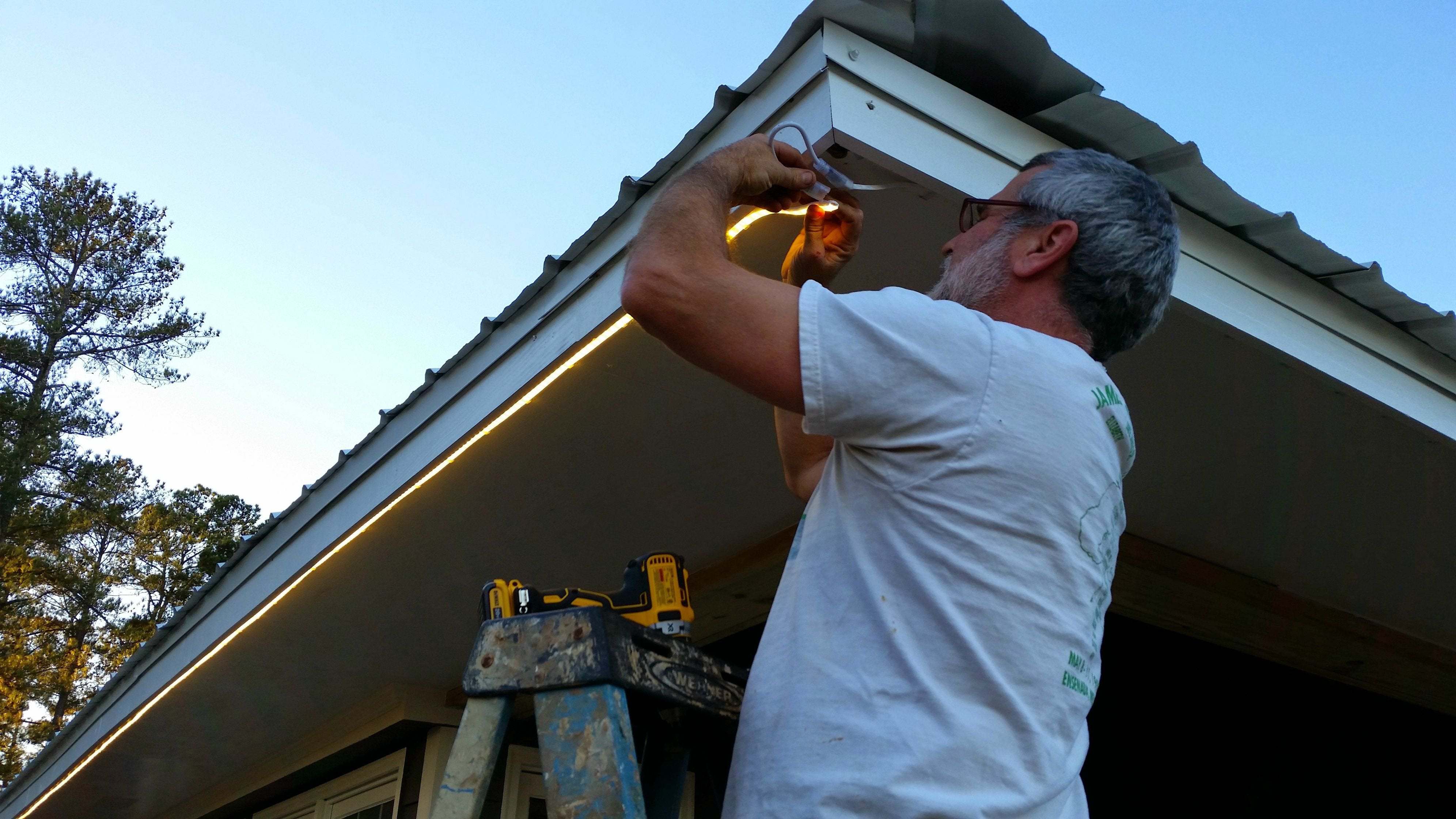 *Doubt about waterproof IP rating of the LED strip lights? You can read this to understand: What does the waterproof IP rating mean?
---
Adhesive installation for IP20 and IP65 led strip lights
Led strip light has an 3M adhesive backing, bringing great convenience to the led light strip installation. You can also apply adhesive to the light strip by yourself if your light strip supports it.
Installing led strip lights with adhesive is much simple. You just need to peel the adhesive tape and press the strip to the place where you want to install. However, you should pay attention to keeping the installation surface clean, so as not to affect the installation effect and prevent the strip light from falling off.

*Maybe you want to know how to cut and connect the led strip lights:
Where to cut led light strips?
How to connect led strip lights together?
How to choose led strip light connectors?
How to connect led strip to the power supply?
---
How to choose the right led tape?
Although the light strips have adhesives, different adhesives have different functions.
The backing of the led strip light is attached with adhesive, suitable for most working environments. For complicated installation, you need to choose a spacial suitable led tape.
►Blue adhesive(glass fibre cloth thermal conductive double-sided adhesive) is heat-resistant and can be used for high wattage led strip lights.
►Yellow glue(double-sided adhesive) has good durability, high temperature resistance, strong adhesion, waterproof, and is generally used indoors. It is suitable for wood, paint and many plastics and fabrics.
►The red glue(dark gray acrylic glue) is more viscous it is a solid foam and completely extruded to achieve seamless connection with the wall. it is used for waterproof led light strips.
►Transparent silicone sealant organic solvent has neutral, non-corrosive, non-polluting, anti-aging and electrical insulation properties. After the rubber is cured, it has good adhesion to metals and most plastics, and has excellent resistance to alternating cold and heat.
Check if there is something special about your light strip. Low voltage or high voltage? Do you want to use it indoors or outdoors? Do you want to install aluminum profiles? Find your answer according to the characteristics of different adhesives.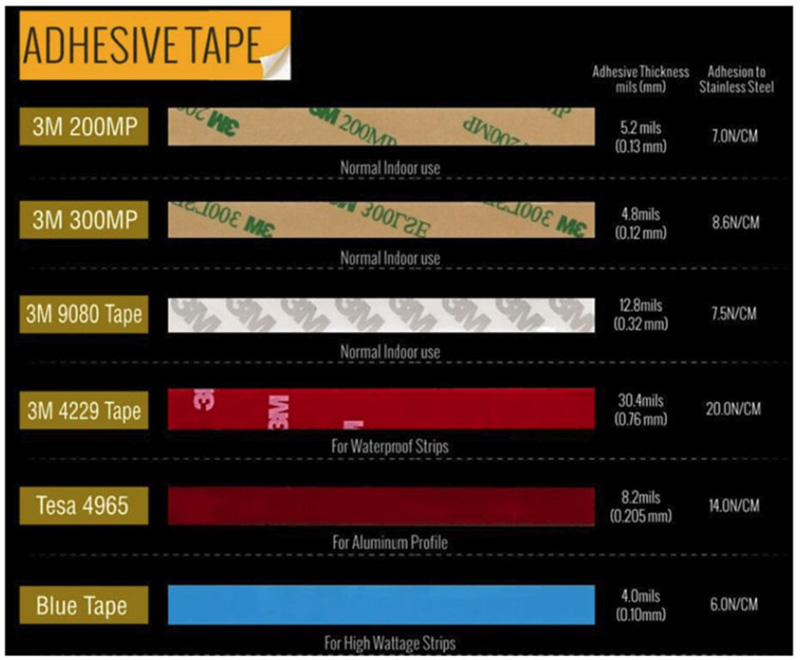 ---
Can IP20 and IP65 led strip lights use aluminum profiles?
Led strip light with the aluminum channel has a very high degree of design freedom and strong decoration, and it is widely used in various creative designs. Suitable for ceiling, cabinet, kitchen, furniture and exhibition.
The role of the aluminum profile is to protect led strip lights from external force damage. It has greater heat dissipation. No light spot and provide better lighting and uniform lighting. The led strip light is inside and it has a good dustproof effect.
However, it is only available for indoor use. You must pay attention to that. If you want to put the light strip outdoor use, you have to choose waterproof light strips placed in the LED aluminum channel.

How to use the led aluminum profiles?
►Step 1. Peel the adhesive of the led strip light and stick the strip to the groove of the aluminum profile.
►Step 2. Cover with the PC diffuser.
►Step 3. Cover the end cups at both ends. The output wire pass through the end cup with hole to connect the power supply or led controller.

*Click the picture to comprehensive understanding the LED strip aluminum channel.
---
Can non-waterproof led strip lights be installed outdoor?
Aluminum channel is not waterproof, if you want to install the IP20 or IP65 led strip in outdoor, you can choose the flex

LED neon tube

which is
IP67 waterproof rating
.
*To konw more knowledge about the LED neon lights:
---
Mounted clip installation for IP67 and IP68 light strips
Why IP67 and IP68 light strips don't use adhesive? IP67 and IP68 are waterproof strip lights. The adhesive has limited adhesiveness, and the IP67 and IP68 light strips are too heavy and difficult to support.
Using clips to install led strip lights is more reliable than adhesive. And the installation is easy too. More IP68 waterproof accessories click here.
►Step 1. Fix the light strip.
►Step 2. Put the clip, the location of the clip is up to you.
►Step 3. Tighten the screw with a screwdriver.

---
In conclusion
Installing led strip lights successfully can bring you a great sense of accomplishment. You can choose adhesive installation, buckle installation, and aluminum profile linear installation. Each installation method has the characteristics of each installation method. If you don't know how to choose which installation method, compare their respective characteristics and your needs to get your answer.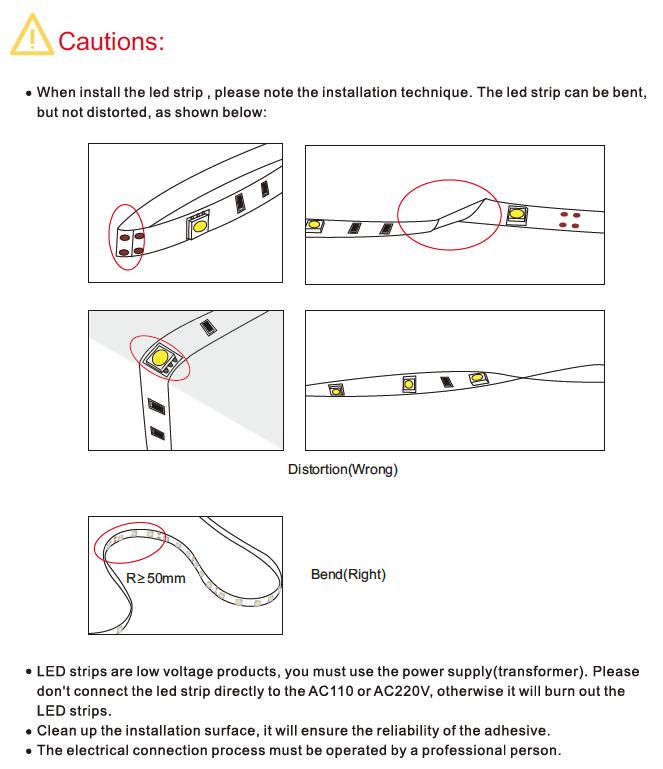 *What you want to know about led strip installation:
How to wire single color led strip lights?
How to wire tunable white/CCT led strip lights?
How to wire RGB color changing led strip lights?
How to wire RGBCCT led strip lights?