Item Type:RGB Controler
Power Source:DC
Wattage:0.8
Model Number:H802SE
Certification:CE,RoHS,CCC
Connection Mode:GND-GND, CLK(D-)-CLK(D-), DAT(D+)-DAT(D+)
Remote Distance:10m
Features:wireless remote control
Max. Load Power:5W
Warranty:1 year
Voltage:12V
Applicable Lights:full color lights
Controled Method:wireless remote or buttons
Material:metal
output ports number:4
drive pixels number:6144
1. Features
(1). 4 ports drive maximum 6144 pixels.
(2). SD card supports FAT32 and FAT16 format.
(3). You can switch files, adjust brightness, set clock frequency and play speed by remote control or by four buttons.
(4). Set DMX address for TM512, UCS512 and other DMX512 chips.
3. Supported driver chips
LPD6803, LPD8806, LPD6813, LPD1882, LPD1889, LPD6812, LPD1883, LPD1886, DMX512, APA102, UCS6909, UCS6912, UCS1903, UCS1909, UCS1912, WS2811, WS2812, TM1803, TM1804, TM1809, TM1812, TM1829, TA9912, TM1913, TM1914, TM1926, WS2801, WS2803, DZ2809, P9813, P9816, SM16716, LD151x, LD153x, MBI6021, MBI6023, MBI6024, INK1003, LX1003, LX2003, LX2006, TLS3001, TLS3002, etc.
Note: H802SE supports more than the chips listed above(for example UCS2903 has the same sequence diagram with UCS1903, H802SE supports them all).
4. Product Display
Product Display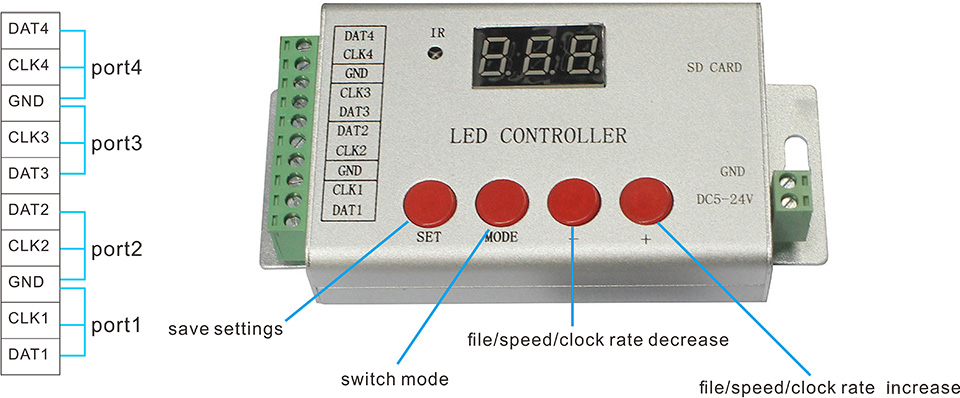 GND, DAT: for WS2811, WS2812, UCS1903, SK6812, etc.
GND, CLK: for APA102, etc.
When you choose DMX512 in software, DAT and CLK turn to D+ and D-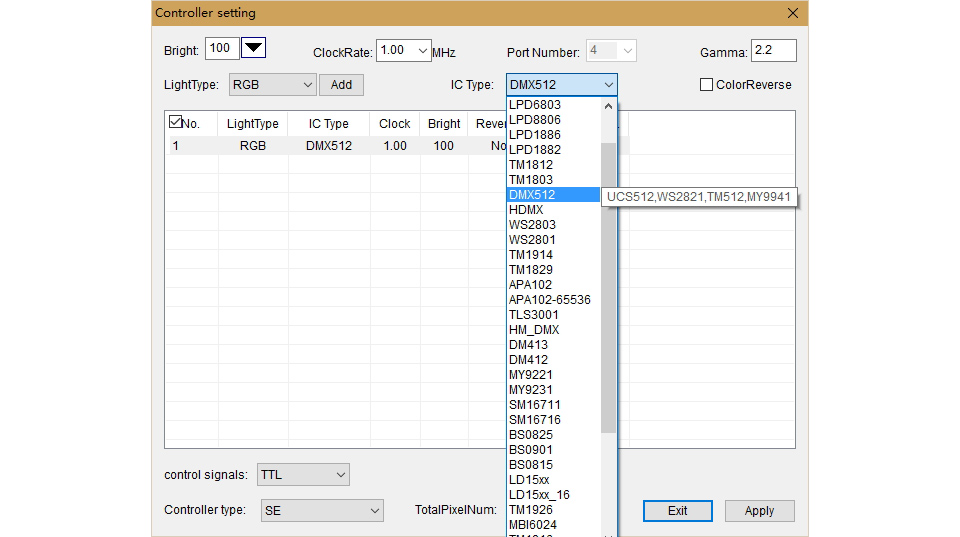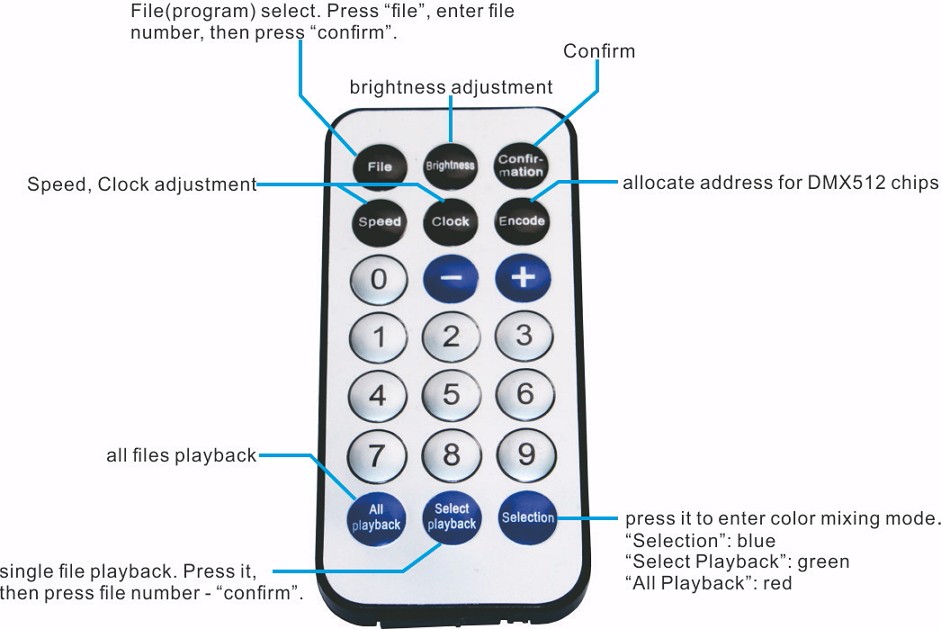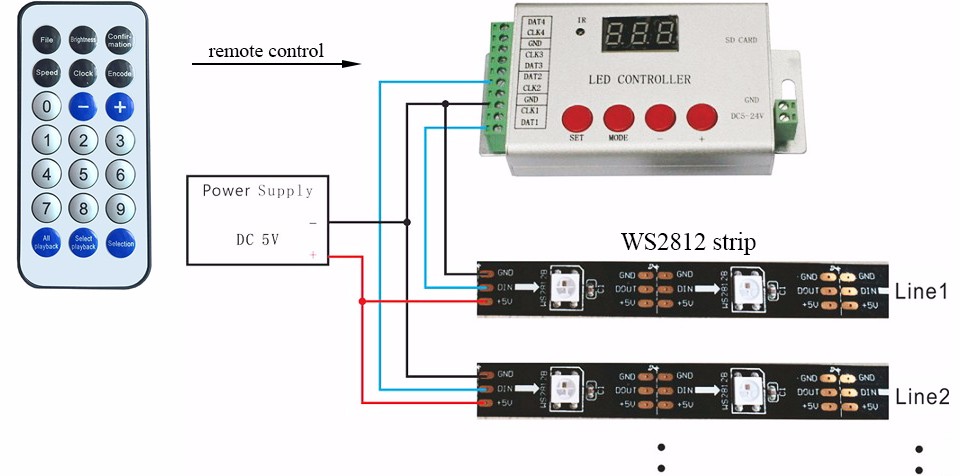 Assume you have 4 pcs individual 16*16 (pixels) WS2812 panel, and want to put them together to make a larger display.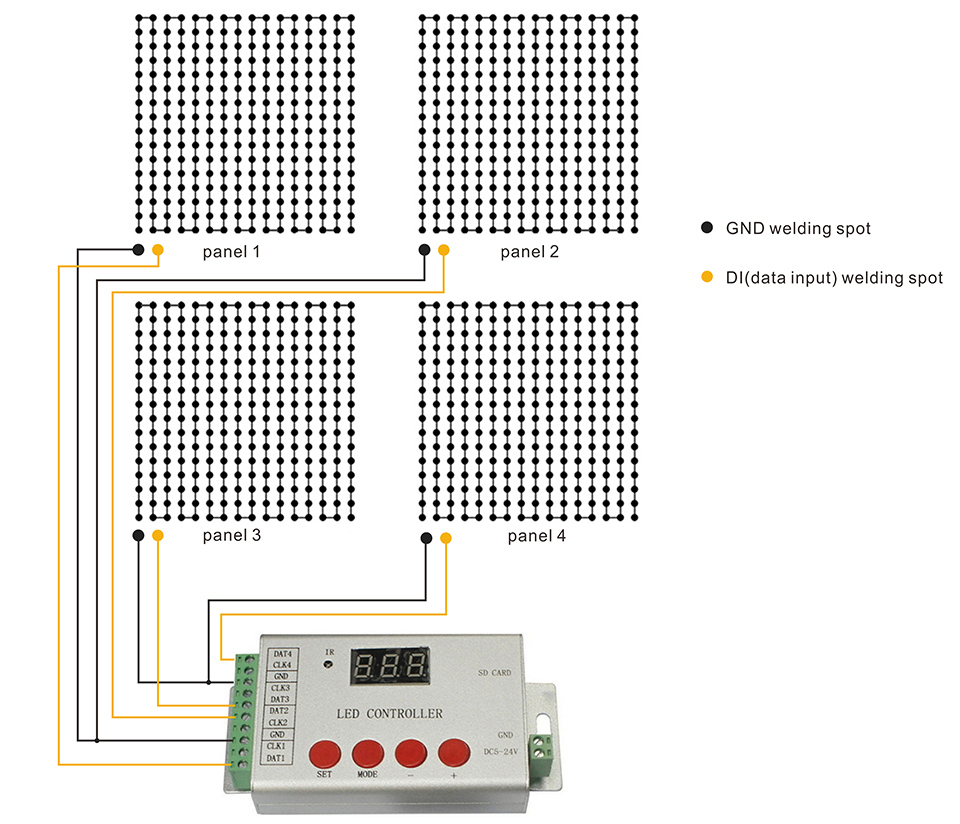 Step 1: Use LED Build Software to program
LED Build Software download: https://drive.google.com/open?id=0B1gzqyV6hfOgN2pkMV8yMFozYzQ
LED Build Tutorial Video download: https://drive.google.com/open?id=0B1gzqyV6hfOgUnFjeG9EM3VRZjA
Video especially for H802SE download: https://drive.google.com/open?id=0B1gzqyV6hfOgMU9xNXZYLXUwVDA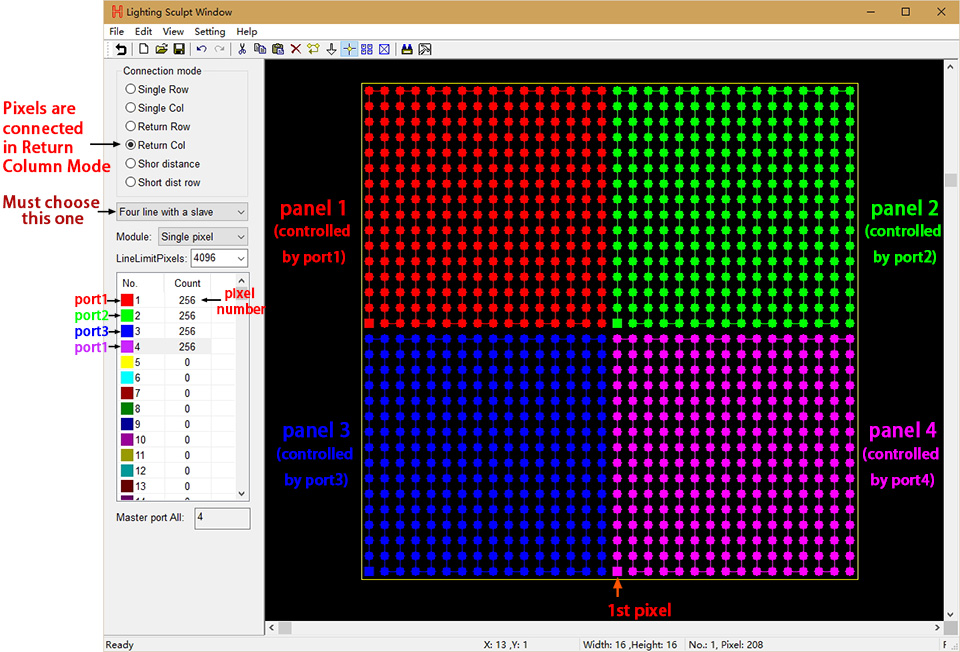 (2). Light Setting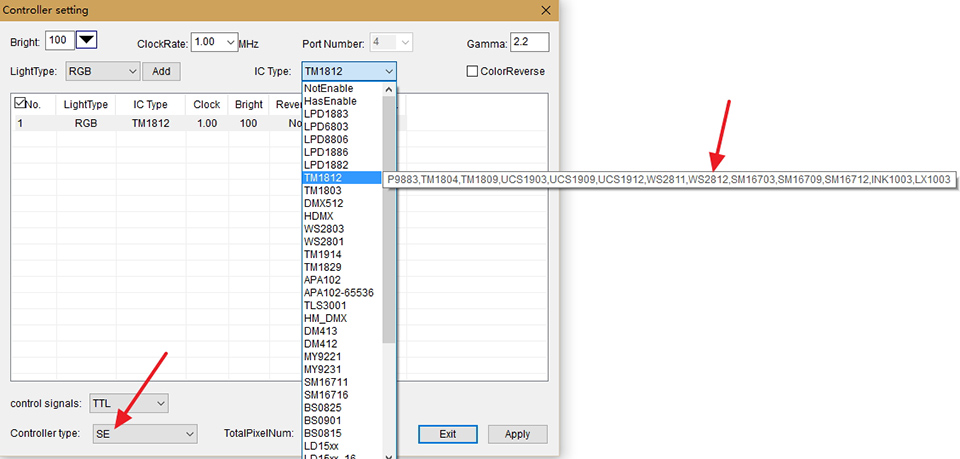 (3). Make Effects
Effect for each panel could be different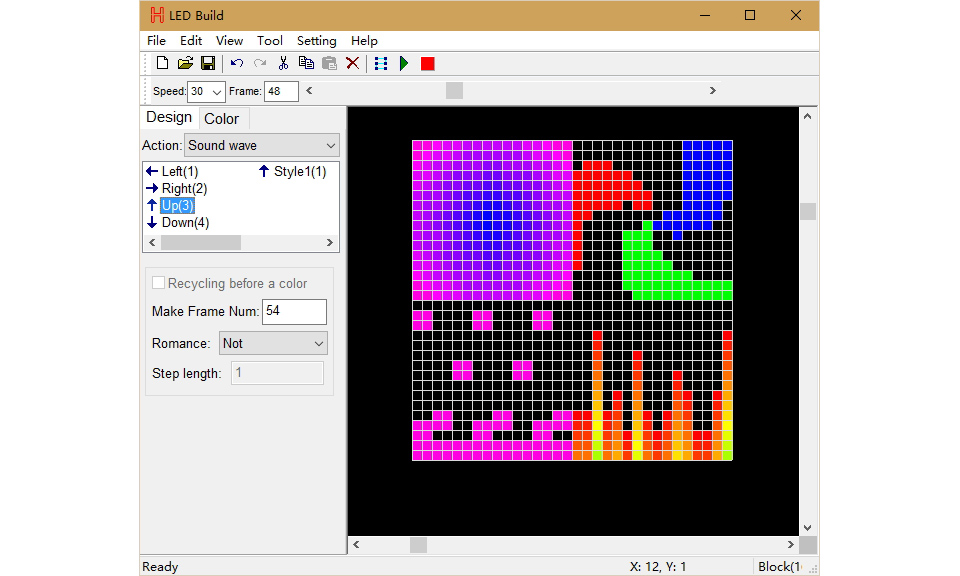 You can also import video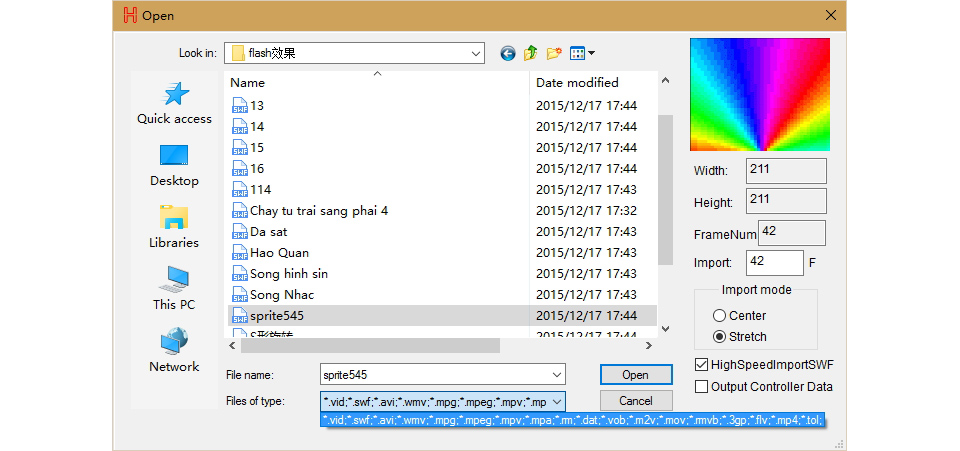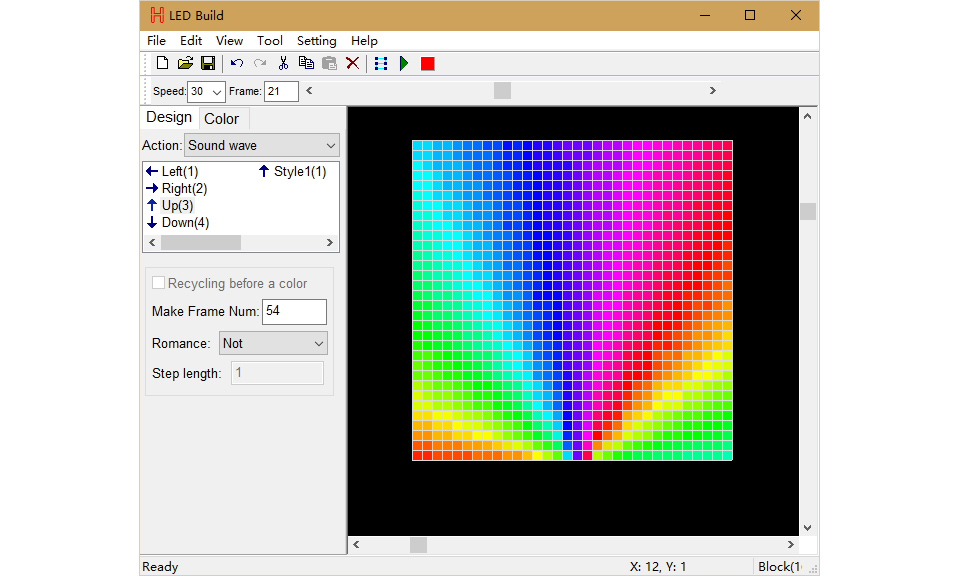 (4). Output controller data and put it into SD card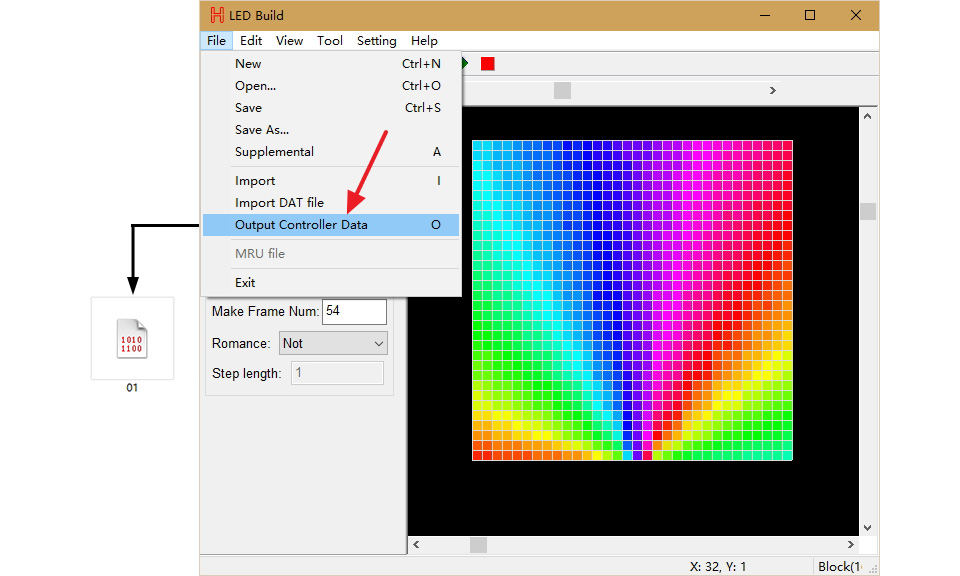 For more details, please refer to the video post above.
6. Set DMX address for DMX512 chips (TM512, UCS512, etc)


Step 1. Power controller on with or without SD card.
Step 2. Press "MODE", then press "+" or "-" to choose chip.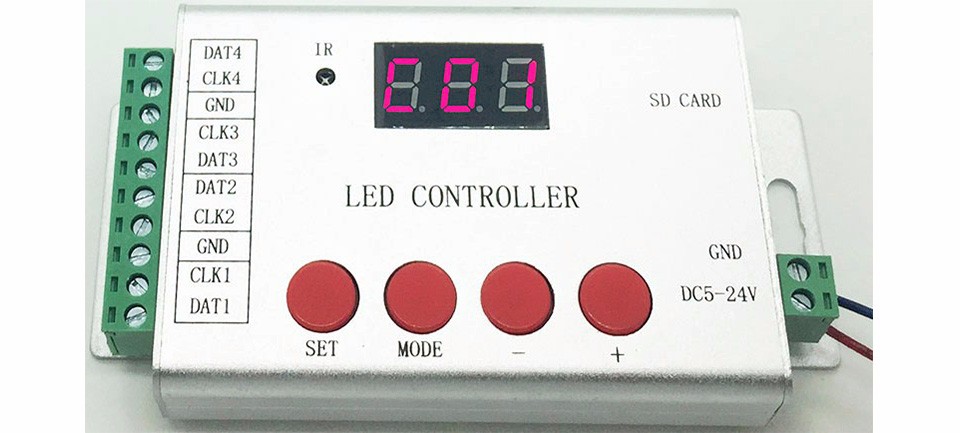 Step 3. Press "MODE" to set channel number occupied by each chip, press "+" or "-" to modify.
Step 4. Press "MODE", enter the starting chip number(which chip you want to start encoding with).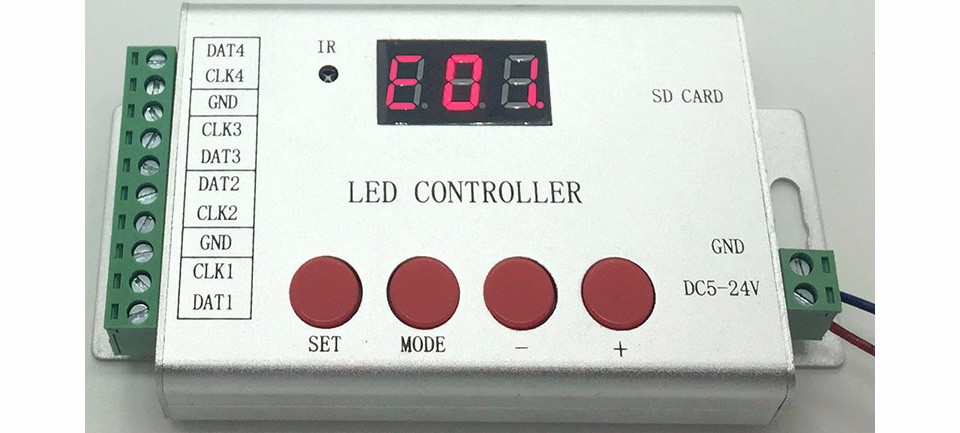 Step 5. Then press "SET". After a few seconds, UCS512 and TM512 lamp will turn white then green. Repower lamps, address will be updated.
H802SE can encode for 800 pixels each time.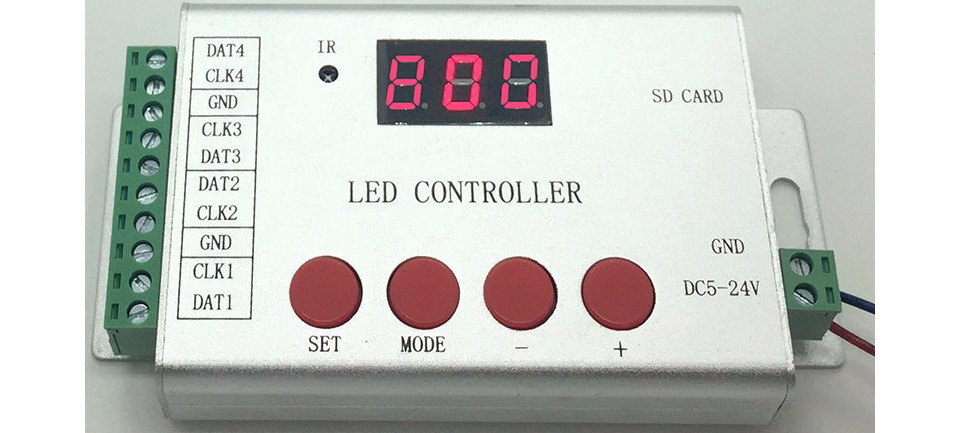 Use remote control
Press "Encode" to enter step 2, use those digital buttons to set chip type.
Press "+" to enter step 3, set channel number with digital buttons.
Press "+" to enter step 4, set starting chip number with digital buttons.
Remember to repower the lamps.
Control Pixels Number: 6144
Dimension: L132 x W71 x H24
Carton Size: L150 x W82 x H38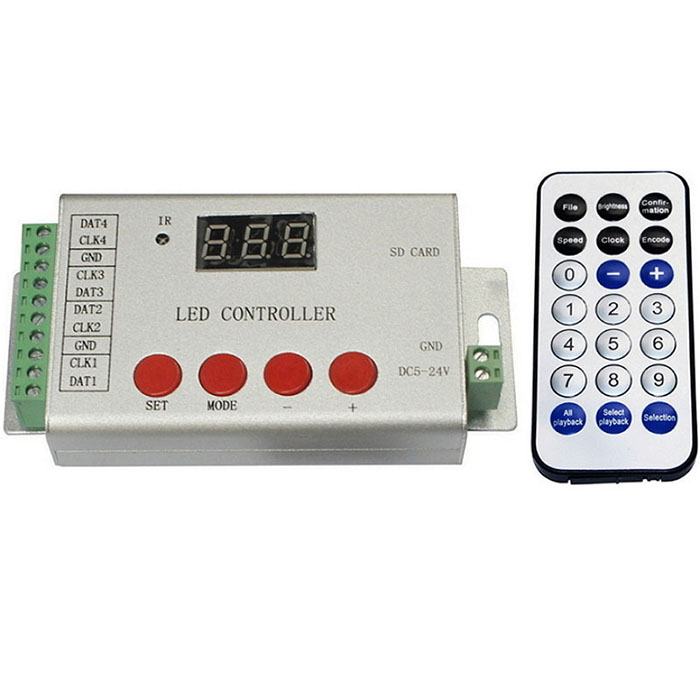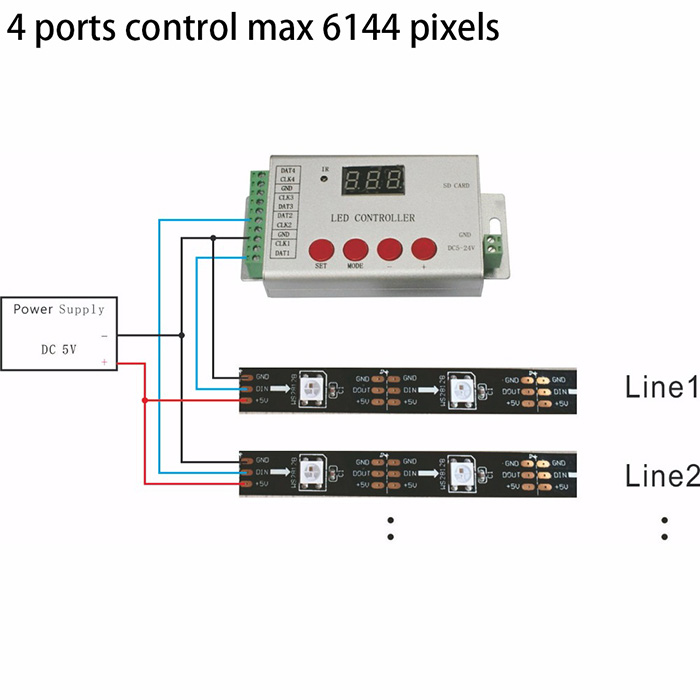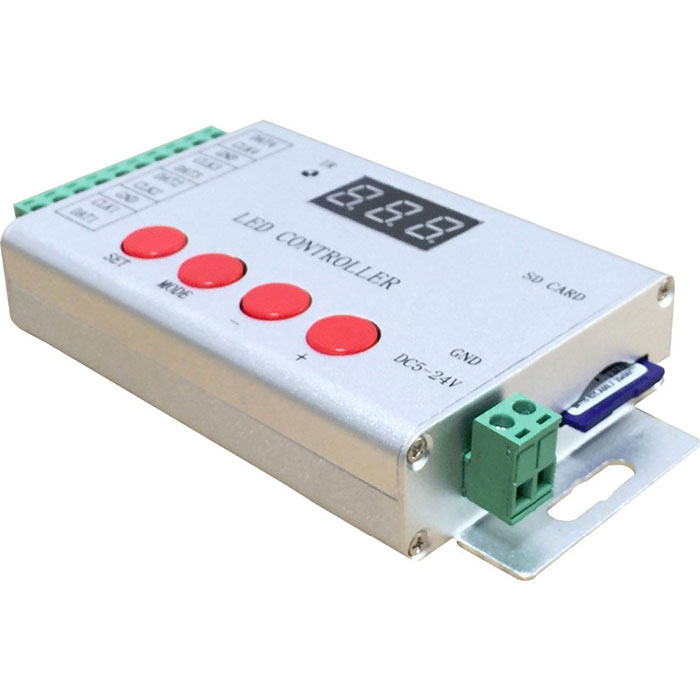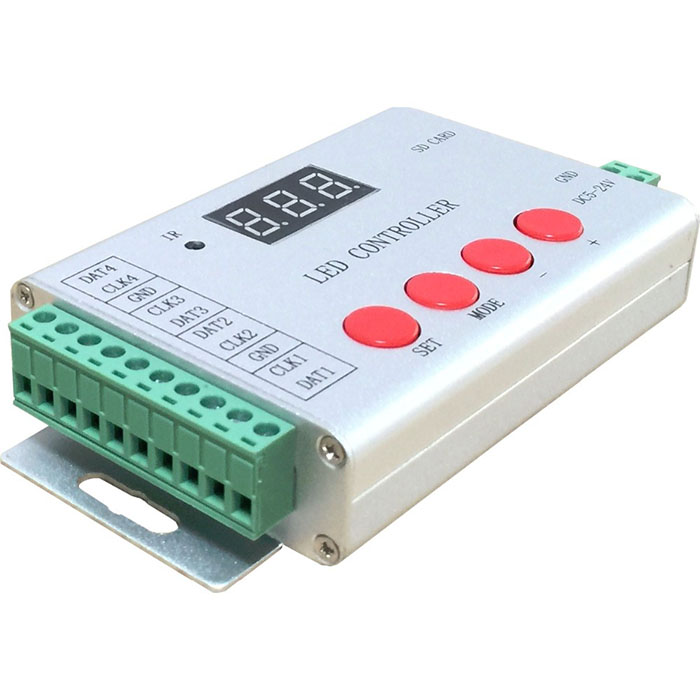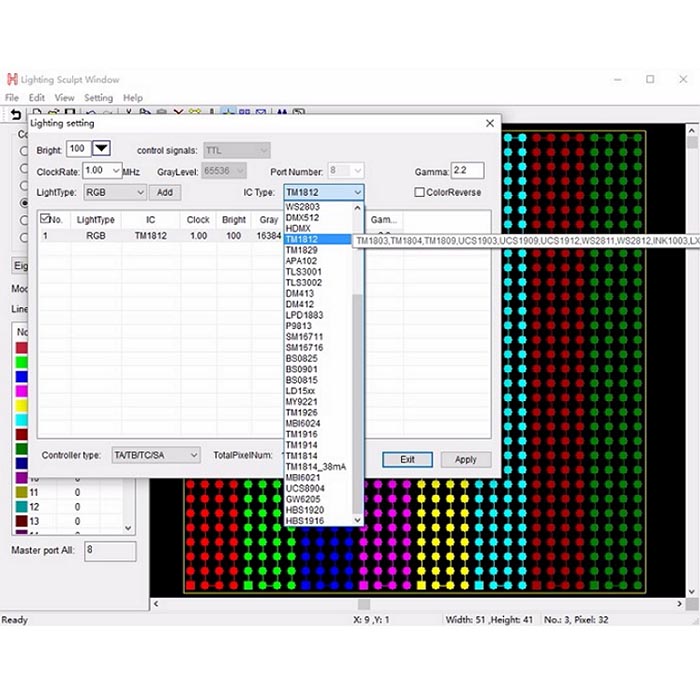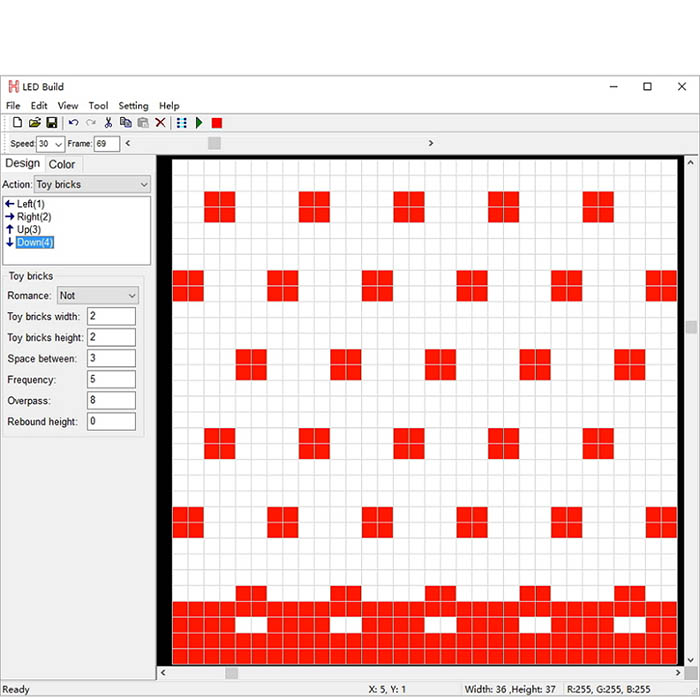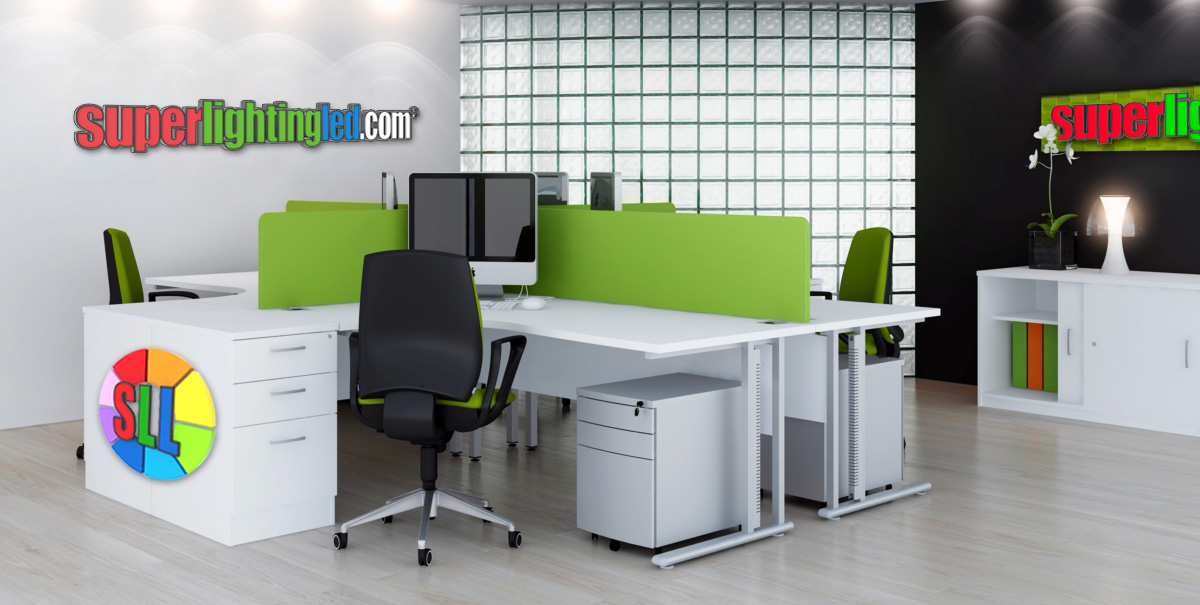 . Guided by a belief that LED lighting would be an integral part of everyday life's illumination, superlightingled.com came into LED industry and keep up with the advanced technoloty.
. We are committed to sales flexible single color,RGB, programmable pixel full color led strip and the accessories, LED controllers, dimmers, amplifiers, power supply are the main products.
.Superlightingleds.com founded in 2011, 5 years' development, our team is becoming stronger and stronger. we provide quality LED technology, great customer service, and superior technical support to our customers. superlightingled is your reliable partner for LED technology.
. If you are looking for high quality LED light Series or energy saving lighting solution, please do not hesitate to contact us, we are always more than happy to help in any way we can.at superlightingled offer LED Lighting for Everything.

Single Color Flexible LED Strip Lights Project Display

Color Change RGB Flexible LED Strip Lights Project Display

Programmable Pixel Dream Color Flexible LED Strip Lights Project Display