DC5-24V Multi-function Spectrum Dream Color Horse Race Music Controller, 2.4G RF Touch remote control, One thousand kinds of pattern choice, Auto key make simple operation, Heart-shaped spectrum display, Custom combination
Audio cable access will cut off the microphone input, then adjust the external audio cable connected to the player volume control; knob only in the absence of audio lines work, that is only the microphone has a regulatory role in the voice of the home page, Display the knob to zoom in on the scale.
This connector with four interface one the left side GND(V-),CLK,DATA, V+ is connect led equipment, the fifth interface is connect the anode V+ of power supply, the sixth interface is connect the cathode V- of power supply. This controller now can support 10 kinds of SPI strip in market, for LPD6803 TM1803 UCS1903 WS2811 TM1812 TM1809 WS2801 WS2812B TLS3001 TLS3008 P9813 IC dream color led strip lights or programmable led string lights.
Standards and Certifications







Product Specification
Controller:
Operating temperature: -20~+60C
Operating voltage: DC5V-24V
Signal output: SPI signal , 600 pixels
Applicable lamp bead: See reference parameter interface
Consumed power: <1W
Product size: 261x161x47mm
Product net weight: 530g
2.4G RF Touch remote control:
Operating voltage: >2.5V, (AAA batteries 1.5V X2)
Remote distance: 10m (32.8ft)
Support IC type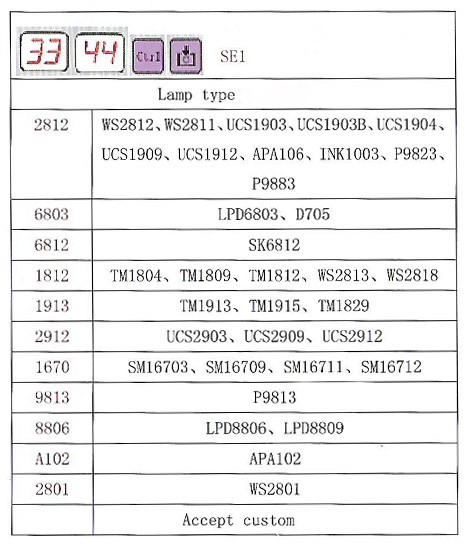 Connection Diagram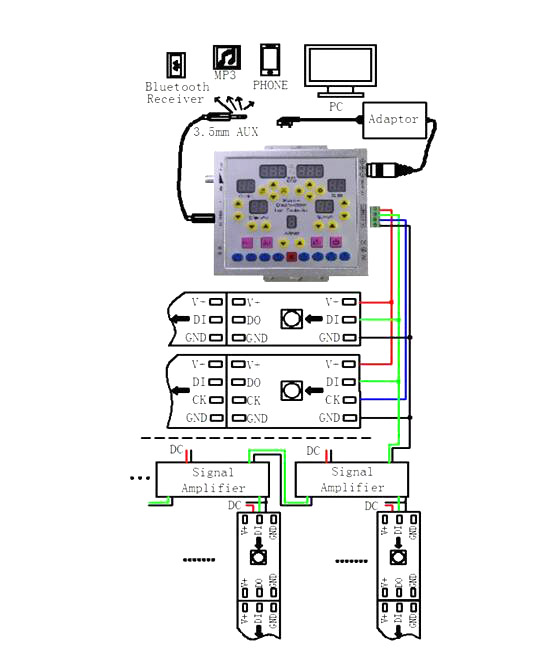 Applications
Interior Decoration: Club, bar, corridor, room, hotel, led aquarium lighting, museum, christmas, holiday, Retail LED lighting etc.
Exterior Decoration: Plaza, commercial buildings, parks, scenic spot, evening location, Sign illumination LEDs etc
Safety
Supply voltage of this product is 5/12/24 Volts DC, do not exceed.
Shorting output wires my cause damage to dimmer.
Always observe proper polarity when connecting power and load.
For indoor use only - this product is not waterproof or weatherproof.
Note
1. Avoid using it in damp environment, and avoid contacting with water and other liquids.
2. Use the product away from magnetic field.
3. Do not let the children touch the wiring, so as to avoid the damage caused by the product interface and wiring errors.
4. Non-professional person is forbidden to open the shell.
5. The product appearance uses the metal material, so the rust due to the scratch, surface layer peeling and natural metal oxidization are beyond the scope of the warranty.
6. QUICK and SLOW speed buttons will only work when unit is in one of the color changing (dynamic) modes.
7. Connect according to the Wiring Schematic drawing.
8. Do not exceed 80% of Power Supply capacity when calculating Power Supply size to use in your system.
Package including
1x Music Controller
1x Audio Cable
1x RF Remote
1x User Manual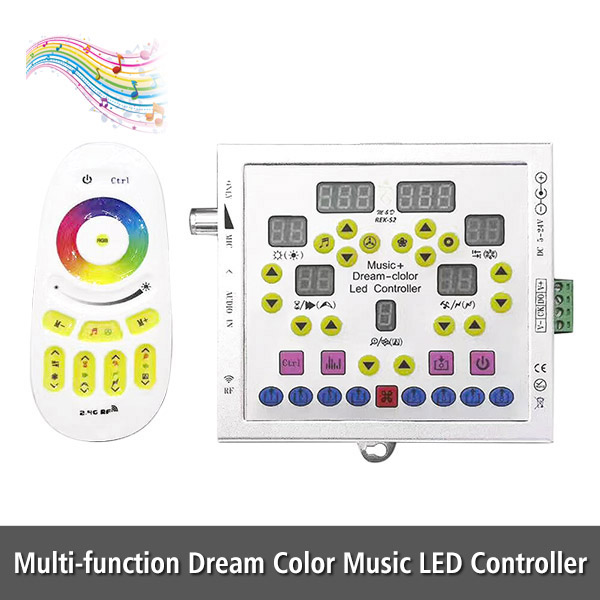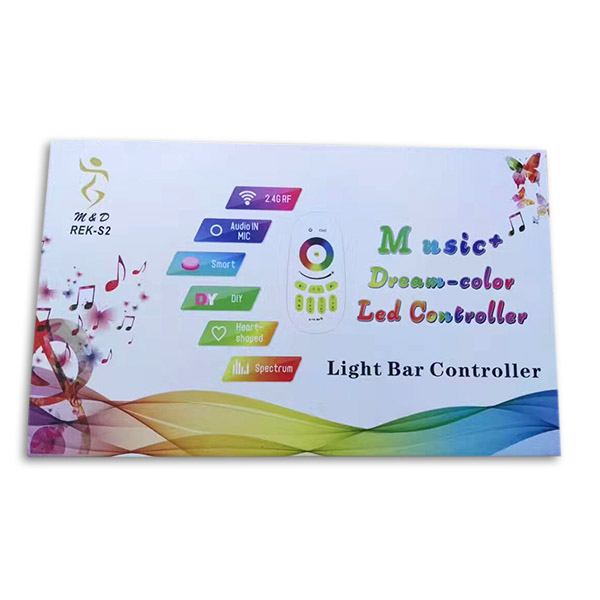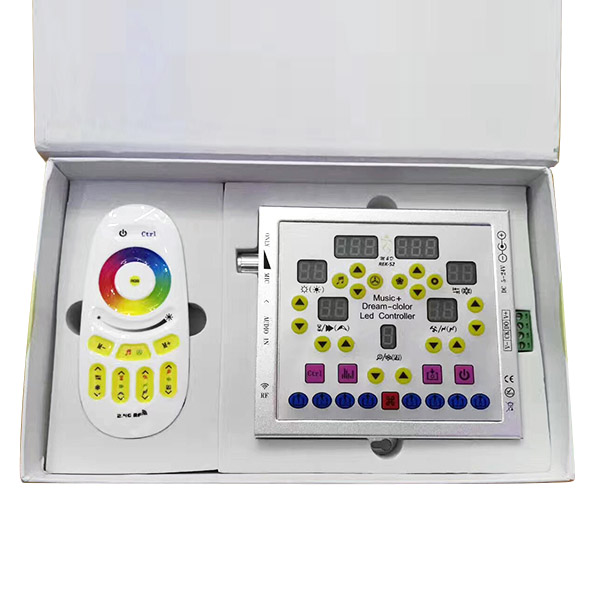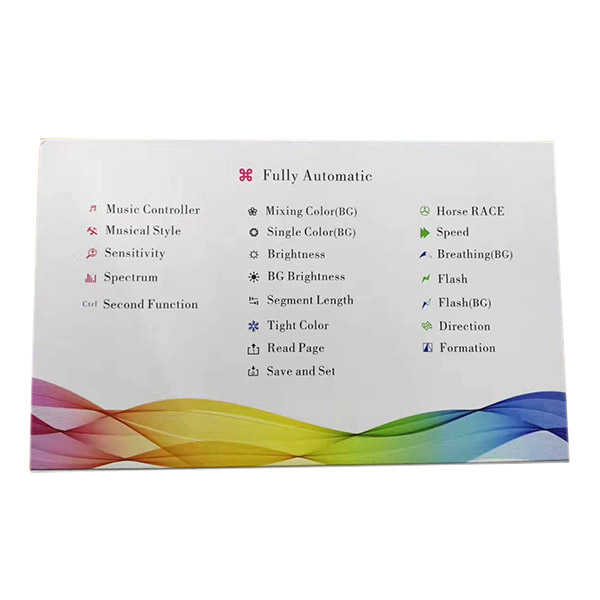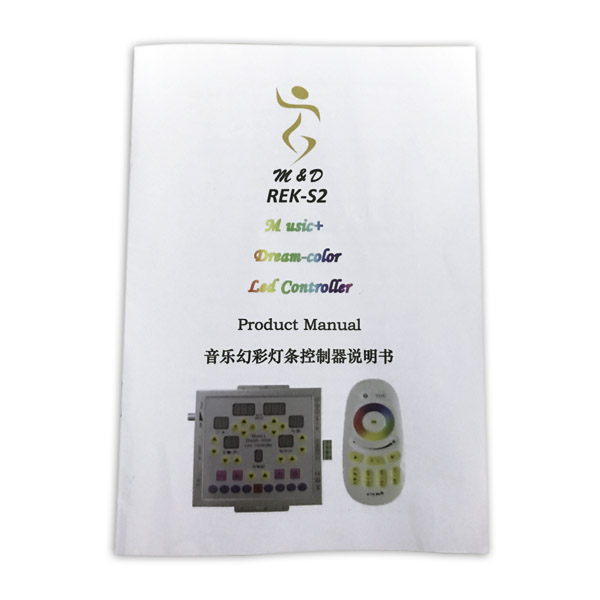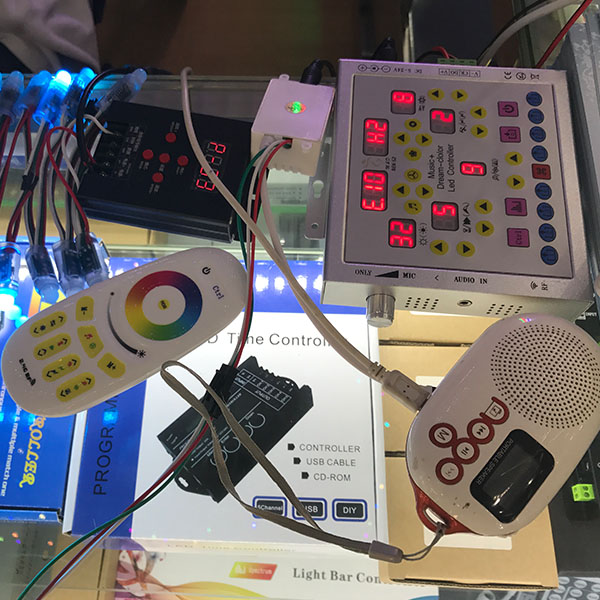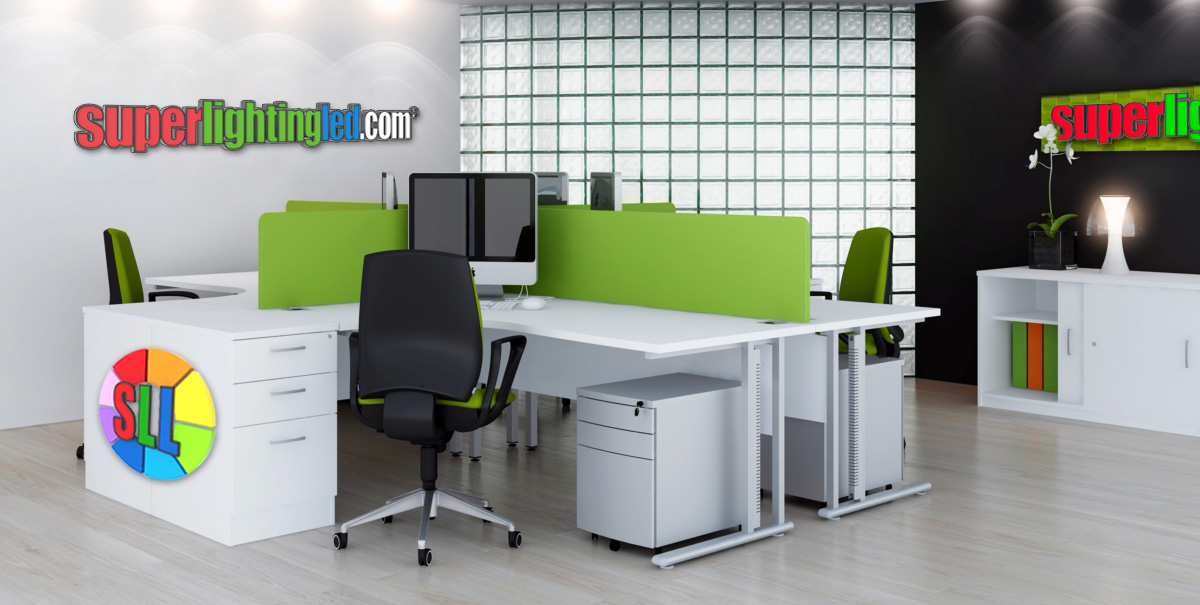 . Guided by a belief that LED lighting would be an integral part of everyday life's illumination, superlightingled.com came into LED industry and keep up with the advanced technoloty.
. We are committed to sales flexible single color,RGB, programmable pixel full color led strip and the accessories, LED controllers, dimmers, amplifiers, power supply are the main products.
.Superlightingleds.com founded in 2011, 5 years' development, our team is becoming stronger and stronger. we provide quality LED technology, great customer service, and superior technical support to our customers. superlightingled is your reliable partner for LED technology.
. If you are looking for high quality LED light Series or energy saving lighting solution, please do not hesitate to contact us, we are always more than happy to help in any way we can.at superlightingled offer LED Lighting for Everything.

Single Color Flexible LED Strip Lights Project Display

Color Change RGB Flexible LED Strip Lights Project Display

Programmable Pixel Dream Color Flexible LED Strip Lights Project Display